Traffic Car Racing Game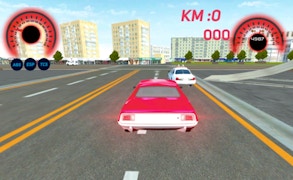 Traffic Car Racing Game
As a new milestone in the realm of car games, Traffic Car Racing Game pushes the limit of high-octane and adrenaline-pumping action. Its immersive gameplay, stunning HD graphics and intricate details transport you right into the heart of a bustling city, transforming your gaming experience into an enthralling roller-coaster ride.
The game welcomes you into a world where your sportscar isn't just an entity but an extension of your virtual persona. The joy of cruising around vibrant city centres in a luxury vehicle is an experience that sets driving games like this one apart. Every throttle, every drift promises unparalleled joy and ignites the thrill-seeker in you. Not to forget, the uncharted territories waiting for you to explore add another layer to the intriguing storyline.
In the sea of car games, Traffic Car Racing Game revamps not just our understanding but also our expectations from drifting games. The reality and authenticity associated with each drift throws you right into those streets filled with traffic. It's more than just a game; it's a beast that unleashes itself on every corner or turn your car takes.
The level of difficulty progresses with every mission, making Traffic Car Racing Game an addictive piece of craftsmanship for both beginners and veterans in racing games. With its jaw-dropping visuals and engrossing narrative, it effortlessly stimulates your senses while giving you chills down your spine.
All in all, if you are looking for driving games that can get your heart racing faster than any sports car ever can, Traffic Car Racing Game is the ultimate choice. Fasten your seatbelts; this isn't just about racing; it's about surviving amidst traffic chaos while aiming for glory.
What are the best online games?