Towing Train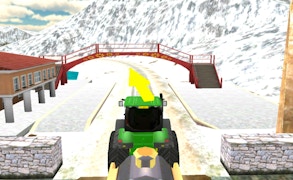 Towing Train
Step right up, racing fanatics and truck lovers alike - this one's for you. Let's shift gears and dive pedal-to-the-metal into the electrifying world of Towing Train, a thrilling hybrid of simulator games and driving games. Buckle up as we journey along a rail rush trainline, hauling behemoth trains with nothing but a robust farm tractor!
If you find yourself captivated by the gravity-defying stunts of Tractor Pull or the strategic complexity of Chained Transport Games, Towing Train will fuel your gaming engine to its absolute maximum. This heart-pounding addition to the ever-popular truck games genre challenges you to use your farming machinery not for tilling soil or harvesting crops, but for the Herculean task of pulling a colossal train over 300 feet!
Packed full of arail rush and relentless action, Towing Train is a beast of its own in both concept and gameplay. However, don't be fooled by its seemingly straightforward premise - mastering its controls demands more than just raw horsepower; it requires finesse, strategic timing, and clever handling of your tractor. You're not just racing against time but also against physics itself.
So gear up for an adrenaline-filled ride that will take your love for farm tractor simulation, train station games, and truck games to new uncharted territories. Towing Train is not just an exciting game; it's an unruly beast waiting to be tamed. Do you have what it takes? Because the track is set, the train is ready - all it needs now is an adept driver like you.
What are the best online games?