Tower Crash 3D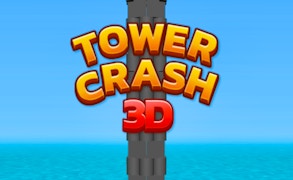 Tower Crash 3D
Immerse yourself in the world of Tower Crash 3D, a thrilling new addition to the much-loved genre of arcade games. This is not simply another game, it's a mentally stimulating, adrenaline-pumping exercise in skill and strategic planning.
The premise of Tower Crash 3D is refreshingly simple yet profoundly engaging - crash all towers using well-aimed balls. Essentially, it's a perfect blend of ball games and skill games, bringing you the best of both worlds with a unique twist. A compelling combination that's bound to make you keep coming back for more.
This game isn't merely about mindless destruction - it challenges your dexterity and strategic prowess. Your task is not just to knock down towers, but to do so in as few attempts as possible. The graphics are visually impressive, showcasing dynamic 3D visuals paired with a seamless user interface that would surely captivate any arcade enthusiast.
The heart-pounding excitement escalates as you progress through each level. With more complex towers appearing, your aim needs to be precise and your strategy sound. The physics-based gameplay ensures that every action has a realistic reaction, creating an immersive gaming experience.
The allure of Tower Crash 3D lies not only in its challenging gameplay but also in the myriad beautiful levels awaiting your conquest. Each level unravels a new challenge keeping you on your toes at all times ensuring an ever-evolving gaming experience.
Whether you are an ardent fan of ball games, have an affinity for skill games, or simply love indulging in adrenaline-inducing arcade actions, Tower Crash 3D serves up an enticing cocktail of engaging gameplay and spectacular graphics that's hard to resist.
In conclusion, Tower Crash 3D triumphs as an extraordinary arcade game that brilliantly merges tactical gameplay with intuitive controls making it a must-try for all gaming enthusiasts!
What are the best online games?
TAGS