Touch Down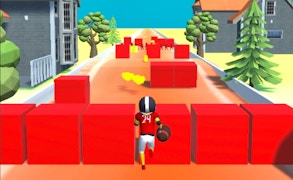 Touch Down
If you've been searching for football games that pack a punch or ball games with a twist, then you're in for a treat. Introducing Touch Down - A sports game that brings a unique blend of exhilaration and strategy to your fingertips.
Enveloping the essence of running games, Touch Down offers an adrenaline-pumping experience unlike any other. As the name suggests, your objective is simple - Touchdown! But here's where it gets fun; this isn't just about scoring those touchdowns. It's also about training and improving your stats for the big game, which adds an exciting dimension often missed in typical sports games.
The feature of raising your salary through your performance transforms what might otherwise be just another football game into a strategic maneuvering challenge. This makes Touch Down stand out, bringing a level of depth and complexity to this engaging entry among online football games.
The daily bowl game offers consistent daily earnings, keeping players hooked and coming back for more. The flow of the game is further enhanced by introducing amazing bonuses and power-ups to unlock as you progress. The tantalizing allure of these unlockables adds an addictive element to this already enthralling sports game.
In conclusion, Touch Down successfully combines the fun elements of ball games, thrill aspect of running games, and the strategic intricacies of football gaming. The exciting features like improving stats for bigger games and unlocking bonuses will keep you on the edge of your seat till the last second. If you're looking for an immersive gaming experience that keeps pushing you forward, then it's time to gear up and jump into the action-packed world of Touch Down.
What are the best online games?