Totemia: Cursed Marbles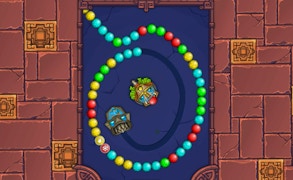 Totemia: Cursed Marbles
Prepare to dive into the colorfully chaotic world of Totemia: Cursed Marbles, an exhilarating entry in the realm of ball games and an irresistible addition to the Bubble Shooter Games catalog. Combining elements of classic match 3 games with its unique twist on mechanics, it ensures an addictive and thrilling gaming experience for both casual and hardcore gamers alike.
The premise is simple, yet utterly captivating. You are tasked with shooting and strategically combining at least three same-colored balls to prevent a relentless line of cursed marbles from reaching the end. Don't let its simplicity fool you - beneath the vibrant surface lies a game abundant in tactical depth and satisfying challenges.
In the playful pantheon of match 3 games, Totemia: Cursed Marbles stands out with its distinctive charm. The vivid graphics and compelling sound design create an immersive atmosphere, taking you on a pulsating journey through meticulously crafted levels each presenting unique challenges that will undoubtedly tickle your strategic senses.
The real triumph here however, comes with the game's clever integration of ball games' mechanics into its core gameplay - shooting balls to match colors isn't merely a means to halt the cursed marbles; it's a deeply satisfying puzzle element that requires thought, precision, and perfect timing.
Whether you're a seasoned veteran searching for your next bubble blasting obsession or a newcomer looking to dive into the addictive world of Bubble Shooter Games, Totemia: Cursed Marbles provides an engaging experience that'll keep you hooked for hours on end. Striking a perfect balance between challenge and fun, Totemia: Cursed Marbles is not just another arcade game - it's a vibrant testament to the enduring appeal of matching, shooting, and strategizing that makes it undeniably worth your time.
What are the best online games?