Tom Hidden Stars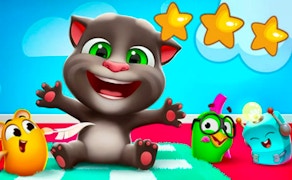 Tom Hidden Stars
If you're in the market for games for kids that will increase their ability to notice detail, Tom Hidden Stars is tailor-made for you. This free online skill and hidden object game ingeniously combines the thrill of adventure with cognitive skill-building activities, making it a must-play in the realm of animal games and hidden object games.
The premise of Tom Hidden Stars is as simple as it is engaging. Each level features images that house 10 hidden stars, cleverly camouflaged within the terrain. Demonstrating an exceptional attention to detail, your young ones will eagerly dive into this visual treasure hunt that spans across 6 captivating levels.
The inclusion of time limitation adds a layer of exciting pressure to this gameplay. Every second counts in this riveting pursuit, as clicking on incorrect locations chips away at your remaining time. This element not only amplifies the intensity but also heightens the players' alertness and precision, fostering important life skills.
However, Tom Hidden Stars isn't all about racing against time; it's equally about enjoying the journey. The game's delightful animation style brings each animal and scene to life, promising an immersive experience that's just as entertaining as it is edifying.
In conclusion, if you desire an adventurous escapade for your kids that inculcates focus, precision and quick decision-making camouflage as pure child's play – look no further! Tom Hidden Stars ticks all those boxes, making it a worthy addition to your collection of online kids' adventure games. So why wait? Dive into this fun-filled universe and let the star-hunting extravaganza commence!
What are the best online games?