TNT Clicker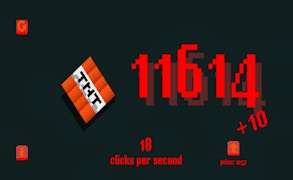 TNT Clicker
Description
In TNT Clicker, you are tasked with the fun activity of continuous clicking. With each click, you gather resources, upgrading your abilities in this vibrant and lively arcade game. The graphics are engaging and bright, providing a delightful backdrop to the thrill-filled action of clicking and upgrading.
How to play
The main control is your finger or mouse cursor. Simply click repeatedly on the screen to collect your resources. The faster you click, the quicker you gather these valuable assets. Use your collected resources to purchase upgrades, enhancing your clicking abilities and earning you even more with each click.
Tips and Tricks
To succeed in TNT Clicker, keep a consistent rhythm of clicking—speed is key. Invest in upgrades early and often as this will maximize your resource collection rate. Pay attention to any special bonuses or power-ups that appear on screen—they can give significant boosts to your progress.
Features
Vibrant, colorful graphics that add a fun element to gameplay.
A simple yet addicting gameplay mechanism of continuous clicking.
An upgrade system that provides a tangible sense of progress and reward.
Pleasant sound effects that enhance the overall gaming experience.
What are the best online games?
Tags