Tile Matching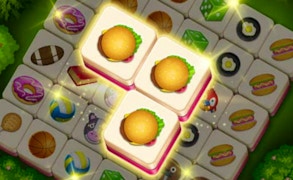 Tile Matching
Prepare to stretch your intellectual muscles and step into a world of strategic tile-snatching with Tile Matching. Elevating the traditional confines of Mahjong games and Match 3 games, Tile Matching takes these beloved gameplay mechanics and melds them into one. Whether you're a die-hard Mahjong aficionado, a Match 3 puzzle whizz, or simply swept up in the love for thoughtful board games, this title is sure to hook your interest.
At its core, Tile Matching embodies the simple yet enticing objective: match 3 tiles, and clear the board. Layered beneath this deceivingly straightforward task is a realm of complex strategy. Unlike typical Match 3 games, every move matters here, forcing players to think three moves ahead. The inherent challenge is an enticing element that escalates from fun to downright addictive!
Fans of Mahjong games will appreciate how Tile Matching revamps this ancient Chinese game's alluring strategy into a universally accessible format. It keeps you constantly on your toes as you scan the ever-changing board layout for that next pivotal match that will pivot the tides of the game in your favor.
The beauty of Tile Matching lies not only in its clever blend of genres but also in its ability to cater to various skill levels. Whether you're just dipping your toes into puzzle games or are a seasoned tile-matching pro seeking your next challenge, there's something here for everyone.
This game exalts the essence of both Mahjong Games and Match 3 Games and distills it into an exhilarating, mesmerizing journey. For those with an eye for strategy or a heart for fun challenges, prepare to have hours swept away by Tile Matching!
What are the best online games?