Tile Master Match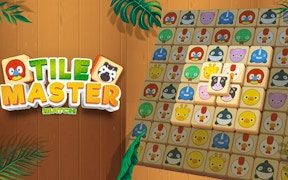 Tile Master Match
Welcome to the enchanting world of Tile Master Match, a fun-filled, adventure-packed puzzler that's just perfect for the little ones. This gem of a game seamlessly blends elements of animal games and match 3 games, serving up endless hours of entertainment for young gamers.
Crafted with love and astoundingly simple in its idea, the game thrives on a unique concept that sets it apart from the traditional Mahjong or block puzzle game. In Tile Master Match, your mission is to match 3 blocks of the same element. The magic unfolds when all tiles are matched, which signals your triumphant passage to the next level.
The heart of Tile Master Match lies in its remarkable assortment of levels, each one more challenging than the last. The journey begins easy but soon spirals into an entrancing maze that will test your wit and guile as you strive to conquer each stage.
This gem is an amazing addition to the realm of games for kids. It nurtures cognitive abilities in younger gamers by encouraging pattern recognition, problem-solving skills and attention to detail, all under the guise of colourful animals and eye-catching elements.
Tile Master Match hits all the right chords by being engaging yet challenging, immersive yet entirely kid-friendly. It's a rare breed in the landscape of animal games that promises a whale of a time for our young jigsaw enthusiasts.
In summation, Tile Master Match is a kaleidoscope of colourful puzzles where fun never ends. If you're on the hunt for some great match 3 games or simply seeking an entrancing gaming experience for your little ones- look no further than Tile Master Match!
What are the best online games?