Tic Tac Toe Multiplayer X O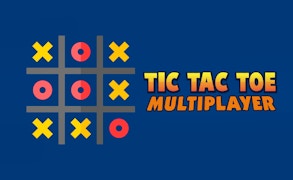 Tic Tac Toe Multiplayer X O
Description
Experience the classic game of Tic Tac Toe in a whole new way with Tic Tac Toe Multiplayer X O. This game transforms the traditional pen-and-paper game into a fun and challenging digital experience. With its modern graphics and smooth gameplay, Tic Tac Toe Multiplayer X O ensures hours of tactical fun for two players, making it perfect for friendly matches and competitive face-offs.
How to play
The goal of the game is simple - line up three of your symbols (X or O) horizontally, vertically, or diagonally before your opponent does. Click on any square on the 3x3 grid to make your move. Successful strategies require careful thought and planning.
Tips and Tricks
To increase your chances of winning, always take the corners if they are free - they offer the most chances to create lines. Also, pay close attention to your opponent's moves and try to block them whenever they get two in a row.
Features
Two-player: Enjoy competitive matches with friends or family.
Sleek design: Modern graphics and smooth gameplay make each match enjoyable.
Straightforward gameplay: Simple yet challenging, suitable for all ages.
Free to play: No hidden charges or in-game purchases required.
What are the best online games?