Thirsty Pirate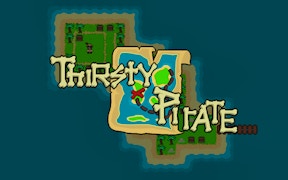 Thirsty Pirate
Description
Engage in the thrilling seafaring escapades of Captain Fiasco in Thirsty Pirate. Fallen victim to mischievous ghost pirates, his precious maps are now hidden across several South Sea islets. Navigate through this dynamic puzzle game where you control the island by rotating it. Guided by strategy and logic, assist the captain in chasing down his lost treasures.
How to play
To play Thirsty Pirate, you must learn to control the rotation of the islands. Use your keyboard arrows or mouse to reposition these floating landscapes, effectually guiding Captain Fiasco towards his lost maps. The difficulty level increases as you progress further into the game, making strategic planning vital for success.
Tips and Tricks
Prioritize understanding how island rotations influence your path and movement on each level. Take a moment to plan your strategy before moving Captain Fiasco. Pay attention to the Ghost Pirates' patterns so you can avoid them and keep your progress steady.
Features
Thrilling pirate-themed puzzle gameplay.
Player-controlled environment dynamics via island rotation.
Evolving levels of difficulty as you progress through the game.
Retro-inspired pixel graphics for a nostalgic gaming experience.
What are the best online games?
Tags