The Hours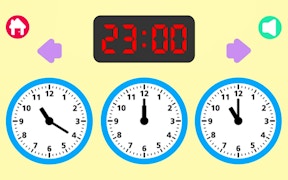 The Hours
Unleash the world of numbers and time with the groundbreaking game, The Hours. Designed by Nau.kids, this game is sure to wow young minds with its interactive elements, exciting puzzles, and invaluable learning experiences. The Hours is not merely a game; it's a means to sharpen your child's cognitive skills whilst providing entertainment. This game for kids is a perfect blend of fun and learning which makes it an ideal pick for parents who wish to make their child's screen time productive.
The educational game introduces children to the fascinating concept of time through a digital watch present on your device. Whether it's a smartphone, tablet or computer; the user-friendly interface adapts perfectly well making it easy for children to play and learn. The immersive gameplay ensures that kids are constantly engaged and motivated to learn how to read time.
In this digital era where smartphones have become the new normal, integrating education with technology has become increasingly important. With games like The Hours, learning becomes interactive and fun making it more appealing to kids. It does not merely restrict itself as a number game, but goes beyond that by developing problem-solving skills and enhancing mental agility in children.
The Hours, one of the best learning games, provides a safe platform for kids by packaging information into an enjoyable puzzle format. Its interactive attributes encourage kids to take active participation in their learning process without feeling overwhelmed by complex concepts such as reading time.
This game is indeed an answer to every parent's quest for an engaging educational tool that combines fun with learning effectively. So, whether you're on the hunt for an exciting new addition to your child's educational toolkit or simply looking for something fun and educational, give 'The Hours' a go! Improve comprehension skills while enjoying puzzles - only with The Hours!
What are the best online games?