The Crusty Quest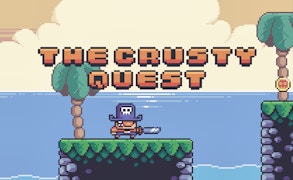 The Crusty Quest
Description
In The Crusty Quest, you step into the shoes of Captain Clown Nose, a sturdy pirate who has been shipwrecked on Palm Tree Island. It's an adventure in pixel glory as you navigate through perilous terrains, battle threatening enemies and hunt down hidden treasure. Will you manage to escape this tropical trap? Only your skill and bravery will tell.
How to play
Control Captain Clown Nose using [WAD] or [ARROW] keys for movement. To advance in-game dialogs and unleash sword attacks, press the [SPACE] or [E] key. The goal is to make it through the treacherous island without depleting your health. Think fast, act faster!
Tips and Tricks
Navigate cautiously to avoid unnecessary damage from enemies and obstacles. Keep close tabs on your health meter - it depletes quite easily in intense sword fights! Remember, survival is as crucial as finding treasure.
Features
Fun-filled pirate adventure in vibrant pixel art environment
A variety of challenging enemies readying for battle.
A robust combat system, putting your sword-fighting skills to test.
A riveting storyline driving you towards an ultimate goal: Escape!
What are the best online games?