Tennis Masters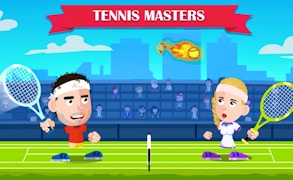 Tennis Masters
Step onto the virtual court and experience the electrifying world of Tennis Masters, one of the most engrossing ball games in recent times. Tennis Masters is far more than a mere simulation; it's an opportunity to showcase your skills and become a virtual tennis master, carrying all the thrill, strategy, and athletic prowess of real-life tennis right to your screen.
Ranging from singles play against the computer to an exciting 2 player game mode, Tennis Masters dishes out an immersive gaming experience bound to keep sports enthusiasts captivated. It allows you to team up with a friend and enjoy hours of competitive gameplay, serving up ace after ace while opting for aggressive base-line play or finesse-oriented touch shots.
The gameplay's USP is undoubtedly its power-ups and hilarious transformations that add a refreshing spin to this traditional sports genre. As you delve deeper into the matches, you can collect these entertaining power-ups. They make every match unpredictable and add another level of excitement to each point played. Whether it's speeding up your serve or turning your opponent into a snail, these amusing additions distinguish Tennis Masters from other run-of-the-mill ball games.
In conclusion, Tennis Masters is not only for tennis connoisseurs but caters brilliantly well to gamers looking for an addictive 2 player game. With its interactive gameplay elements, laugh-out-loud power-ups, and intuitive controls, it offers an engaging experience that's synonymous with the spirit of competitive sports.
If it's a lively blend of sports and entertainment you're after in a game – or if you're just looking to whip your friend in a showdown of reflexes and strategy – Tennis Masters serves as your perfect gaming match point!
What are the best online games?
TAGS