Tenkyu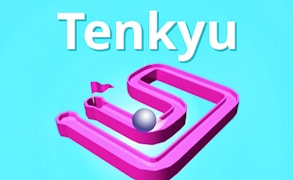 Tenkyu
Today I am plunging into the electrifying 3D world of Tenkyu, a tremendous addition to the realm of Arcade style Skill Games and Ball Games. Tenkyu is a rip-roaring, free-to-play ball physics game with an astounding 110 levels for you to conquer. Imagine becoming master of your own fate as you tilt the stage and shepherd a ball through eye-popping terrains - that's Tenkyu in a nutshell.
The game's premise is simple yet captivating. Your goal? Commandeer a ball through a three-dimensional playground loaded with twists and turns, inclines and declines, reaching the end goal without succumbing to gravity's merciless pull. But beware - tilting too much leads to instant catastrophe as your ball plunges into the abyss. The player is left teetering between victory and defeat, embodying the age-old struggle of balancing risk and reward - an adrenaline-charged dance on the knife's edge.
This dynamic feature where you tilt the stage marks Tenkyu not only as an Arcade game but also as one for those into Ball Games. Be prepared for countless hours of fun as you leverage precision, timing, and skill to navigate through each engaging level. It's really all about preserving momentum while resisting overcompensation. A fine line indeed!
Absolutely free to play and enticingly challenging, Tenkyu proves itself as a top-tier addition to Skill Games. With 110 levels each offering its own unique challenge, Tenkyu provides players with endless opportunities for growth and mastery - making it not only a test of skill but also of endurance.
In conclusion, if you're seeking for a thrilling, physics-based ball game that will keep you on your toes and require careful judgement at every turn then dare to enter the world of Tenkyu. A perfect blend of strategic planning, skillful execution, precision control all wrapped up in visually stunning Arcade aesthetics.
What are the best online games?
TAGS