Teeth Runner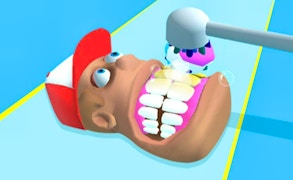 Teeth Runner
Are you ready for a joy-filled, action-packed dental journey with Teeth Runner, one of the most popular running games on the market today? Perfectly designed as a Game for Kids, Teeth Runner combines the thrill and speed of endless running games with a unique oral hygiene theme, promoting not just fun, but also the importance of daily dental care.
In Teeth Runner, brushing your teeth isn't just a mundane activity - it's an exciting race against time! As you dash through this innovative arcade game, players discover that maintaining oral hygiene is not just beneficial, but can also be hugely entertaining. It's a game that delivers key life lessons while keeping players engaged and entertained.
The game mechanics are simple but the challenge is real. The goal is simple: 'Keep your teeth clean while running at top speed'. A seemingly straightforward objective becomes an exhilarating quest as players navigate through various levels filled with obstacles representative of oral health threats. It's more than just an epic running game; it's an adventurous reminder of oral health.
Teeth Runner's incredible graphics bring to life the inside of a mouth like never before. The gameplay is intuitive and child-friendly, making it an ideal Game for Kids. Yet its compelling storyline and increasing difficulty make it equally appealing to older gamers seeking for challenging running games.
The beauty of Teeth Runner lies in its perfect blend of fun gameplay and valuable life lessons. It redefines the concept of kids' arcade games, transforming daily rituals into exhilarating adventures. So why not make your gaming more meaningful? Run, hop, and slide your way to healthier teeth with Teeth Runner – because everyone deserves a breathtaking smile!
What are the best online games?
TAGS