Tap the Frog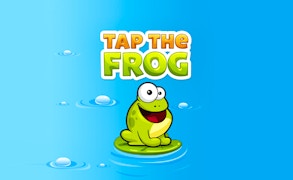 Tap the Frog
When smartphones came into being, we never knew just how addicting tapping would come to be and that's why we've got games like Tap The Frog. If you've ever seen a frog, you can see that they're usually docile but are ready to leap at a moment's notice. Despite this, the frogs in this game are some of the most ambitious frogs you've ever seen. They're only held back by the fact that they're frogs which means they rely on you to help them achieve their goals. To make things convenient, they only need you to master the art of tapping quickly and in the right spots in order to help them succeed.
About Tap The Frog
Tap games are both surprisingly simple and surprisingly engaging. They prompt you to do the same quick action over and over the game with different results depending on how it's done. This game does that and presents multiple scenarios that require all types of tapping and provide different kinds of feedback as a result. It's an action we do so often and usually without even thinking about it, and yet, we still feel challenged by games like this one. We're all tapping all the time so it should be easy to progress in tap games. However, this one shows just how challenging that can be.
How to Play
Tap The Frog is a 2D mini-game compilation game that revolves around tapping by using the mouse and/or keyboard. Depending on the activity, you will need to use the cursor and Left Mouse Button to click on the onscreen buttons or use the Left/Right/A/D keys to tap the buttons to the left and right of the screen or to move the frog back and forth. You'll need to use your best judgment based on each mini-game's gameplay. The goal is to complete as many mini-games as possible by earning 5 stars from each.
The mini-games differ from each other in terms of objectives but can share similarities in gameplay. They can involve tapping frogs, controlling frogs via hopping or flying, feeding frogs, and helping frogs collect things, and more. Each mini-game has a timer that starts at around 20 seconds, but some mini-games let you increase the time through certain actions or by collecting clocks. You can also use clocks in your reserve to add extra time after the timer runs out. When the timer does run out, the mini-game ends and you'll receive stars based on your final score. These stars can then be used to unlock new mini-games.
Tips and Tricks
Since you're never sure what kinds of mini-games you can expect in the future, be prepared to do some dry runs of new games. If you're struggling with one in particular or just want to unlock new ones, go back to previous games and try to earn more stars.

Game Details
Developer: Playmous
Platforms: Web Browser (PC and mobile), iOS, and Android
Languages: English, German, French, Italian, Spanish, Japanese, Chinese, and Russian
Gameplay Footage
FAQs
Is there an end to Tap The Frog?
Since you can only earn a max of 70 stars, there is a set number of mini-games to unlock and complete. If you're going for 100 percent completion, you'll need to unlock all of the Achievements as well. Each mini-game has 5 and they're tracked by the Trophy icon in the bottom left corner of the main menu screen.

Games similar to Tap The Frog
With its tapping having transitioned to the computer, this game can be found in the Clicker and Mobile Games categories on GamePix. It is among titles like Spinner io, Merge Mine, Fishing io, and Pudding Monsters.
What are the best online games?