Tanks.io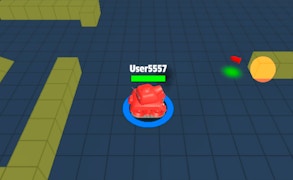 Tanks.io
Welcome to the exciting and cutthroat world of Tanks.io, an action-packed, adrenaline-pumping addition to the realm of .io games, and a must-try for fans of tank games and battle games.
In Tanks.io, you're plunged into intense, multiplayer combat zones where strategy, agility, and firepower are just as crucial as your ability to form alliances and betray them when necessary. This game doesn't just test your skills; it tests your mettle!
The core objective? Decimate the enemy team's base by relentlessly chipping away at its health. It sounds simple enough, but this belies a rich tapestry of tactical gameplay where every decision is critical to victory or defeat.
As a multiplayer game, Tanks.io provides an epic platform that requires users from around the globe to forge alliances with other players. These global interactions pave the way for unique gaming experiences within this virtual world.
The graphics are vibrant and engaging, perfectly capturing the danger and thrill of battlefield combat. Every explosion sends shockwaves across your screen; every near miss leaves you breathing a sigh of relief.
The strategic gameplay in Tanks.io makes each battle feel truly unique. It's not just about who has the most powerful tank; it's about how well you know your enemy and how effectively you use your resources.
If you're in search of frantic combat, cunning strategies, pixel-perfect shots and endless excitement packaged into one game; if you love tank games or battle games - then prepare yourself for Tanks.io. This is more than just a game – it's war!
Tanks.io
isn't merely a game; it's an exhilarating blend of strategy, action, camaraderie,and betrayal played out on a global stage. Fuel up your tanks, strategize with your team, and brace yourself for the ultimate .io battle experience!
What are the best online games?
TAGS