Tangram Swap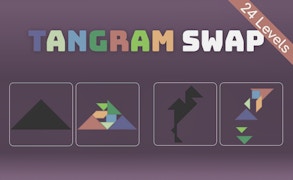 Tangram Swap
Tangram Swap, a riveting addition to the realm of block-games and brain-games, is sure to captivate any puzzle enthusiast with its intricate design and engaging gameplay. Taking inspiration from the ancient Chinese art of tangram, this game presents players with a delightful challenge wherein strategy and creativity collide.
Rather than feeding players with spoon-fed, linear gameplay, Tangram Swap throws you headfirst into an environment adorned with a scattering of beautifully crafted tangram pieces. Their initial positions are shuffled, their symmetry shattered, presenting you with a jigsaw puzzle that's always unique and never mundane. The objective? It's simple yet complex - click to swap the positions of these chaos-lidden pieces, gradually crafting them into harmony.
But don't be fooled by the apparent simplicity because the game comes with a twist! These aren't your ordinary puzzle pieces. You also have the power to rotate them, unlocking new dimensions in this geometric playground. This introduces an additional layer of depth to the gameplay that will have even seasoned puzzle addicts hooked.
An amalgamation of spatial intelligence, strategic swaps plus serendipitous rotations is what it takes to overcome this cunning game's challenges. The ultimate victory doesn't simply lie in re-assembling these pieces together; rather it's in creating that perfect alignment which forms the target shape. So as you dive into the magnetic pull of Tangram Swap, remember - every piece matters!
Tangram Swap is more than just a game; it's an exploration of ancient artistry, an exercise for your brain and most importantly - it's a testament to how beautifully satisfying chaos can turn into order under a patient hand. If you relish teasing your brain with block-games or aspire to take on a mental challenge with brain-games, this is a must-play for you!
What are the best online games?
Tags