Taming.io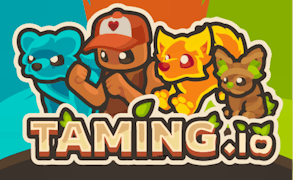 Taming.io
Embark on a magic journey in Taming.io, where magical pets become your fiercest allies in battle. Venture into a world where the quest for resources, strategic base-building, and battling formidable foes intertwines with the charm of pet taming.
Master the Art of Survival
Your journey begins alongside a loyal pet companion. Prioritize harvesting wood to age gracefully and to amass resources essential for crafting and building. As you evolve, you'll unlock an array of rewards amplifying your prowess, from health-boosting foods to formidable weapons and tools.
Fortify Your Territory
Time is of the essence! Construct a formidable fortress and enhance its defenses with sturdy walls and protective turrets. Among the structures, the windmill stands paramount, serving as an automatic gold generator to fuel your endeavors.
Experience the Magic of Pet Taming
The essence of Taming.io lies in the enchanting pet battles. While you commence with a chosen pet, the world invites you to tame up to three additional wild creatures. Approach untamed beasts and unveil the magic that ensues!
Forge Alliances
Remember, in this multiplayer realm, you're never alone. The land is teeming with fellow gamers. Forge alliances, form formidable teams, and enhance your chances against dominant adversaries and well-coordinated groups.
Discover More Adventures
If the allure of Taming.io captivates you, explore survival adventures akin to MooMoo.io and delve into more creations by the acclaimed developer, LapaMauve.
Game Features
Engage in spellbinding battles against rivals
Win the loyalty of wild creatures to bolster your ranks
Gather diverse resources to fuel your journey
Design and strengthen your stronghold
Unearth greater treasures as your journey progresses
Release & Updates
Launched in November 2020 by the talented LapaMauve, Taming.io is accessible on web browsers. Stay tuned for the latest game developments, with the most recent update on 27th October 2023.
Controls
Navigate using WASD, ZQSD, or arrow keys. Engage in combat with the left mouse click.
What are the best online games?