Talking Tom Christmas Time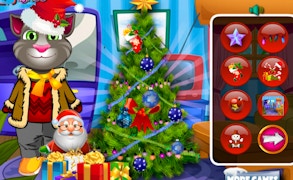 Talking Tom Christmas Time
Immerse yourself in the vibrant world of Talking Tom Christmas Time — a delightfully charming Game for Kids that promises to captivate with its adorable protagonist and thematic atmosphere. Breaking away from the mold of traditional Games for Girls and boys, this engaging escapade offers an exciting blend of creativity and festive, holiday spirit.
Kickstart your journey with Tom, our beloved animated feline star as we step into the realm of heartwarming Cat Games. This isn't your ordinary cat game, though. Talking Tom Christmas Time breathes life into our favorite talking cat by allowing kids to not only interact with but also dress up Tom, adding an innovative twist to customary Dress Up Games.
Bright and welcoming graphics lure players in as they are tasked to beautify our furry friend while simultaneously adorning a lush Christmas tree. The design is not overwhelming, maintaining just the right balance between stimulating and soothing — a perfect combination that keeps young gamers engaged without causing sensory overload. Truly, it proves a worthy addition to your collection of Christmas Games.
The intuitive interface ensures that players of all skill levels can dive in and have fun instantly. The interactive nature encourages creativity and problem-solving skills among children while invoking bouts of laughter and joy with Tom's quirky animations.
In the crowded landscape of kids' entertainment, Talking Tom Christmas Time shines as an exceptional offering that combines fun gameplay mechanisms with a wholesome holiday theme. An adventure teeming with laughter, creativity, and festive spirit — this game is all set to become a favorite pastime for both kids and adults alike!
What are the best online games?