Table Tennis World Tour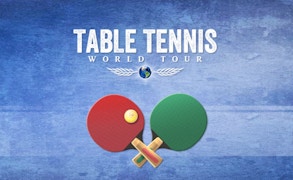 Table Tennis World Tour
Immerse yourself in the thrilling world of Table Tennis World Tour, the ultimate destination for all you sports gaming enthusiasts! This exceptional sports simulation is not your average online ball game. It offers an unparalleled opportunity to battle against 60 opponents from every corner of the globe in a heart-pounding ping pong competition. The game breathes new life into the genre of ball games, blending intense rivalries with a sense of camaraderie that transcends borders.
The fine-tuned mechanics of Table Tennis World Tour mirror the intricate strategies and shot techniques inherent to the real-life sport. This is not a simple game about hitting a ball back and forth. Each match is a test of skill, precision, and agility, demanding intricate strategy and split-second decisions. With an exciting array of shot techniques at your disposal, every match offers a unique challenge.
Ping pong enthusiasts will appreciate not only the technical gameplay but also the diverse range of opponents, each with their own unique skills and personalities. Every victory brings you one step closer to collecting all trophies and earning the coveted title of world champion. The adrenaline rush as you climb up the leaderboard, outsmarting competitors from around the world, is simply unmatched.
In conclusion, Table Tennis World Tour is more than just a game - it's an immersive sporting journey that pushes boundaries and offers an exciting international experience at your fingertips. As far as sports games go, this one sets a new standard in terms of gameplay depth, visual presentation, and accessibility. Whether you're a table tennis aficionado or an all-round gaming enthusiast, Table Tennis World Tour promises to serve up a thrilling experience!
What are the best online games?
TAGS