Sweet Candies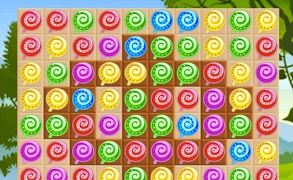 Sweet Candies
If you're on the quest for fun, engaging, and educational Games for Kids, look no further than Sweet Candies! Not only will it entice your youngsters with its vibrant and playful aesthetics, but it also serves as an ideal introduction to the riveting world of match 3 games.
At first glance, Sweet Candies seems like a simple match 3 puzzle game with a pastel-colored candy theme. But this whimsical game offers so much more than just eye candy. Participating in this delightful pursuit will not only entertain your kids but also sharpen their problem-solving skills as they venture through the captivating candy-themed puzzles.
The premise of the game is straightforward yet bewitching: combine 3 or more candies of the same color to solve the puzzles. As thrilling as it is, this primary mechanism successfully infuses a sense of achievement in the young minds when they destroy those candies in a strategic flow. However, that's not all! The dash of excitement continues as players strive to finish all puzzles within the stipulated time to bag a brag-worthy 3-star rating.
Sweet Candies is designed keeping young puzzle enthusiasts in mind and delightfully manages to engage them at various levels. The difficulty curve remains gentle enough for kids yet doesn't shy away from offering challenges that keep their interest piqued.
In conclusion, if you've got little ones who are fans of sweetness-filled adventures and brain-challenging puzzles alike, then Sweet Candies is a must-have! It embodies the perfect mix of fun, learning, and challenge making it one of the best match 3 games for kids.
What are the best online games?
Tags