Sweet Baby Girl Cleanup Messy School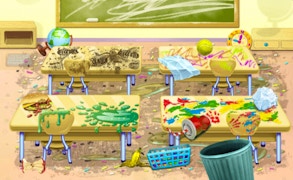 Sweet Baby Girl Cleanup Messy School
Introducing the Sweet Baby Girl Cleanup Messy School, a delightful addition to the world of Games for Girls and Games for Kids. This whimsical, educational game will transform your young ones into little helpers, keen on restoring cleanliness, order, and shine to their beloved digital academy.
Dive into an engaging journey with the adorable characters Chloe, Katie, and Justin. These friendly faces will accompany your child as they navigate through different school environments such as the observatory, playground, bathroom, classrooms, and even a chemistry lab! Every corner of the school is a new adventure waiting to unfold under the guidance of these sweet guides.
This compelling educational game excels not only in entertaining its young players but also instilling valuable life skills subtly. The game poses fun challenges that require logical thinking and memory skills. The concept of responsibility is framed within an exciting storyline that will hook kids' attention while instilling them with a sense of achievement as they work towards cleaning their virtual school.
The graphics are vibrant and eye-catchy; each environment has been designed with care to reflect reality closely enough to be relatable but also fantasy-filled enough to captivate young minds. Characters are cute and expressive, adding to the overall charm of the game.
In conclusion, Sweet Baby Girl Cleanup Messy School is not just another game for kids; it's an amalgamation of fun-filled adventure and meaningful learning wrapped up beautifully. It's an absolute must-try in the domain of Games for Girls and Games for Kids. Engage with this educational marvel today and watch your child benefit from it while having an absolute blast!
What are the best online games?