Sweet Baby Girl Cleanup Messy House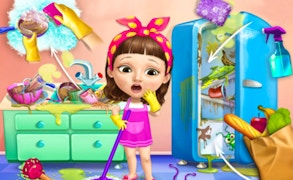 Sweet Baby Girl Cleanup Messy House
Are you looking for the ideal blend of fun and learning for your little ones? Look no further because Sweet Baby Girl Cleanup Messy House perfectly bridges the gap! A jewel amongst games for girls, it is also a treasured find in the realm of engaging educational games.
Primarily crafted as one of the few games for kids, Sweet Baby Girl Cleanup Messy House offers an amazing opportunity to learn and grow while having fun. The game revolves around the charming character, Chloe, who finds her house in a complete mess right before Christmas and New Year, leading to numerous cleaning missions that kids can enjoy.
The gameplay requires children to clean up Chloe's kitchen, tidy up a stinky toilet, and wash dirty dishes. Each task comes with its unique set of challenges. However, it's not all work and no play; each completed task rewards players with points which add an exciting competitive edge. And let's face it - encouraging children to clean up after themselves while playing is a dream come true for every parent!
The colorful, vibrant graphics are sure to catch kids' eyes, but it's the game's unique ability to combine practical life skills with virtual entertainment that truly sets it apart from other games for girls. While catering specially to girls' gaming tastes, Sweet Baby Girl Cleanup Messy House does not compromise on inclusivity. It remains unisex at heart by including elements in its gameplay that are equally enjoyable by all kids.
In terms of educational games, this game cleverly integrates essential life skills such as responsibility and cleanliness into an approachable, entertaining format. As they navigate through colorful levels packed with intriguing tasks, children will inadvertently learn about household chores and their importance.
In conclusion, Sweet Baby Girl Cleanup Messy House strikes a balance between being a delightfully entertaining game for girls and a compelling educational tool among games for children. Definitely worth introducing to your child's leisure time!
What are the best online games?