Sushi Rolls - Cooking With Emma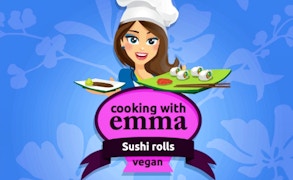 Sushi Rolls - Cooking With Emma
Delve right into the tantalizing world of Sushi Rolls - Cooking With Emma, a riveting puzzle game that's not just your run-of-the-mill cooking games. This game distinctly stands out, as it is one of the few brainteasing and engrossing cooking games targeted at the young and ambitious culinary enthusiasts, particularly tagged under 'Games for Girls'.
In this captivating game, you are introduced to the vibrant, colourful and mouth-watering universe of sushi making. All the while, you're engaged in solving puzzles that will test your logic and quick thinking abilities. This is truly where mental agility meet culinary prowess.
The game premise offers something refreshing – a chance to learn how to make sushi rolls at home! You are guided by the endearing character called Emma, who gives lucid instructions and invites players to follow her vegan recipe. The game achieves an interactive learning experience by seamlessly merging gaming with actual cooking skills.
Sushi Rolls - Cooking With Emma creates an immersive experience with rich graphics, smooth controls and an addictive gameplay that makes it more than just another entry in the realm of cooking games. The instructions provided by Emma are not just for virtual play - they lay out actual recipes that can be tried in real life.
This is not just a game specifically appealing to girls but an engaging puzzle challenge for anyone keen on broadening their cooking repertoire while having fun. With Sushi Rolls - Cooking With Emma, you get more than just a game; it's a comprehensive package – stirring a gaming experience with real-life culinary adventures. Get ready for countless hours of puzzle-solving dishes and creating a feast not only for your eyes but also for the mind!
Rated as one of the top cooking games, this is definitely one to add to your collection if you desire a perfect blend of fun, learning and indulgence in the artistry world of food preparation! Prepare yourself for an unforgettable expedition into culinary gaming with Sushi Rolls - Cooking With Emma.
What are the best online games?