Supra Drift 2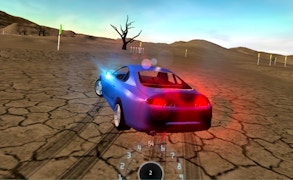 Supra Drift 2
Welcome to the world of Supra Drift 2, where asphalt meets adrenaline. This is not just another entry in the crowded racing genre; it's a high-octane experience that redefines car games. Packed with enthralling landscapes, stress-inducing challenges, and a striking Toyota Supra, this game will make your heart pound while keeping you planted to your seats.
Whether you're looking for the hustle and bustle of city racing or the rugged terrain of off-road battles, Supra Drift 2 has got you covered. Maybe you prefer the soothing sights of dockyards and ports, but don't be fooled - this is not a cruise trip. It's a battleground for driving games enthusiasts, where speed lovers test their mettle against each other.
Your journey in this world begins with the simple-yet-effective controls: WASD or Arrows for driving, Space for handbrake drifts, F to ignite your Nitro boosters, P to pause your adrenaline rush momentarily and G to slow down time itself. Mastering these controls is where Skill Games aficionados will find their challenge.
The heart-stopping thrill of drifting at high-speed around sharp corners creates an exhilarating experience unique to drifting games. The joy lies not only in being the fastest but also in mastering control over speed and precision. And if you're already thinking about those cinematic slow-mo moments when you narrowly escape a crash - well, that's what the 'G' button is for!
In conclusion, Supra Drift 2 is an exciting addition to your gaming portfolio that offers ample fun and intense competition. It adds another dimension to racing games, bringing an immersive world full of high-speed chases and intricate drifts. But most importantly, it reminds us why we love car games: That intoxicating mix of speed, skill, and style.
What are the best online games?