Superheroes 10x10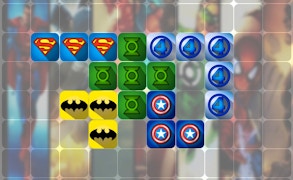 Superheroes 10x10
Immerse yourself in the challenging and engrossing universe of Superheroes 10x10, a must-try title for fans of dynamic block games and stimulating brain games. This captivating game offers an irresistible blend of strategy, logic, and superhero panache, deftly challenging players to save their beloved heroes by successfully arranging and aligning blocks within a 10x10 grid.
Your role in Superheroes 10x10 is to be the unsung hero who steps up to solve the intricate block puzzles. Elaborate strategies and careful execution are key. The goal is not just placing blocks willy-nilly; it's about crafting perfect rows and columns in order to score points, save superheroes, and flex your cognitive muscles. As you venture deeper into the game, remember that each placement is crucial - one wrong move can spell disaster.
The beauty of this game lies not only in its appealing graphics or smooth gameplay but also in its outstanding versatility as a brain-stimulating exercise. It tests players on various fronts - from spatial reasoning to problem-solving skills - crafting an experience that's both enthralling and valuable for intellectual growth.
No matter your preference between speed or careful consideration, Superheroes 10x10 caters to all play styles. Whether you're a seasoned block game enthusiast seeking a new challenge or an eager newbie desiring to delve into the world of brain games, this title guarantees countless hours of fun.
In conclusion, if you're looking for a game that effectively combines block-building mechanics with superhero-themed fun, satisfyingly challenging gameplay with brain-boosting elements, then look no further than Superheroes 10x10.
What are the best online games?
Tags