Super Yacht Parking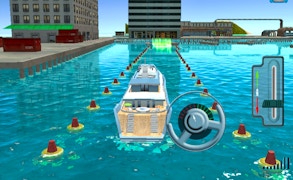 Super Yacht Parking
For all the adrenaline junkies constantly scouring the realm of driving games, I present to you, a thrilling treat that takes the road less traveled - or rather, sailed! Behold, the Super Yacht Parking, an epitome of skillful navigation and precision in a landscape strewn with luxurious challenges.
This game doesn't merely offer a linear race against time. On the contrary, it blends elements from diverse genres such as Offroad games, which traditionally feature rugged terrains and hostile environments, with a touch of the meticulous strategy required in parking games. The result? An exhilarating player experience that keeps you on your toes (or rather, at the helm).
In Super Yacht Parking, you're tasked with steering magnificent boats across pristine blue waters whilst avoiding an array of obstacles and competitor yachts. A single lapse in judgement, one hit too many and it's game over for you—unless, that is, you can leverage your skills to unlock the treasure trove of achievements waiting at every level.
The challenge doesn't end there. The coveted leaderboard awaits those who can muster enough points by effectively navigating through all levels. So not just score, but sail your way up to glory!
Super Yacht Parking seamlessly fuses the high-octane rush of racing with the strategic elements common in parking and Skill Games. It emphasizes precision as much as speed (if not more) while alloying a sense of realistic simulation to create an irresistible competitor in the vast ocean of driving games.
What are the best online games?