Super Tetris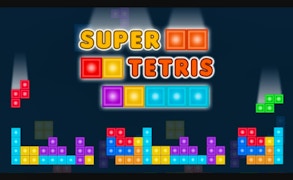 Super Tetris
Super Tetris is a captivating block game that's designed to test your ability to think on your feet while keeping you entertained with its colorful graphics and dynamic animations. Inspired by the legendary Tetris games, Super Tetris breathes a fresh wind into the world of classic brain games, redefining challenge and excitement in a whole new light.
At its core, Super Tetris is a casual game where blocks of varying shapes descend from the top of the screen. As a player, your task is to strategically fill up the vacant spaces with these blocks. Building an entire line of blocks destroys it, rewarding you with points. Your goal? To amass as many points as possible without allowing the blocks to reach the top.
In Super Tetris, every level comes with its own set of challenges, keeping you constantly engaged and anticipating more. Adding fuel to this fiery mix are combos – destroy multiple lines in quick succession and get rewarded with even more points! It's not just about quick thinking – accuracy and strategy are just as important. Want to rack up an impressive score? Combos are your best bet!
The visuals in this game are refreshing, boasting vivid colors that appeal to players of all ages. The animations are cleverly designed and exciting – they add a sense of thrill to every destroyed line and successful combo. But don't let the game's charming appearance fool you - under its colorful exterior hides a challenging brain teaser ready to put you through some serious mental gymnastics!
In conclusion, if you're in search for a challenging yet entertaining Tetris game, Super Tetris proves itself worthy of your time and attention. Its engaging gameplay combined with beautiful graphics helps keep your brain gears whirring, offering hours upon hours of enjoyable gaming experience while enhancing key cognitive abilities such as decision-making skills and spatial awareness. Good luck scoring those points, folks! Keep those blocks falling and lines disappearing!
What are the best online games?