Super Stickman Fight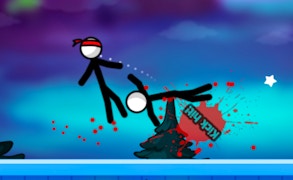 Super Stickman Fight
Enter the dynamic universe of Super Stickman Fight, a thrilling challenge that pushes the envelope of stickman games. This game is not your ordinary walk in the park; it demands a unique combination of skill and strategy rare in most skill games. Leave behind the mundane world and dive headfirst into exhilarating battle games that leaves your heart pounding.
Super Stickman Fight invites you to pit yourself against formidable stickman foes. Each foe is crafted with a level of detail that creates a sense of realism and immersion rarely achieved in stickman games. Take no prisoners as you deftly manipulate controls to execute fluid combat moves. Your adversaries wail in defeat, their screams echoing as a testament to your supreme fighting skills.
Skillfully navigate through challenging levels laden with dangerous obstacles like fire and saws. This game is designed around real ragdoll physics, challenging you to use both your brains and brawn. Each level presents its own unique potential for death, demanding constant adaptation and quick reaction times. In this game, true victory can only be seized by those who are willing to risk it all.
In the throes of battle, reap the spoils of war by collecting stars which can then be exchanged for deadly weapons such as swords, axes, and hammers. Each weapon contributes a distinct advantage against enemy forces, serving both as an extension of your might and a symbol of your valor in this brutal arena.
In conclusion, if you're seeking an adrenaline-pumping epic filled with carnage, chaos, and conquest - then look no further than Super Stickman Fight. This game offers an exhilarating fusion of action-packed gameplay within the realm of stick-man aesthetics that will undoubtedly tickle your gaming palate.
What are the best online games?