Super PonGoal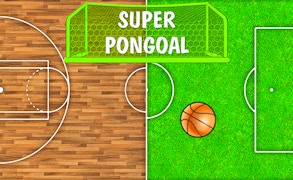 Super PonGoal
Description
Put your sporting skills to the test with Super PonGoal, an engrossing action, sports game that combines speed, precision and strategy. Players are offered an incredible array of choices - from ball types to playing fields - to personalize their gaming experience. With the adjustable game times, you can have a quick match or an intense, endurance-testing encounter.
How to play
In Super PonGoal, the ultimate objective is to outscore your opponent within the stipulated time-frame. For PC users, control is with a mouse and for mobile phone users, simply tap on the screen. Remember, keep up with the ball's movement and don't lose sight of it.
Tips and Tricks
Mastering timing is key in Super PonGoal. Smart players anticipate the ball's trajectory and position themselves accordingly for maximum advantage. Also, experimenting with various balls can unveil unique strategies to gain the upper hand.
Features
Select from a wide range of balls for varied gameplay experiences.
Choose from different maps for a more diverse gaming environment.
A flexible game time setting, suiting both brief and long playing sessions.
Intuitive controls for both PC (Mouse) and Mobile (Touchscreen)
What are the best online games?
Tags