Super Peaman World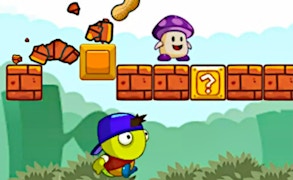 Super Peaman World
Prepare to embark on a thrilling journey through the charming pixelated landscapes of Super Peaman World - an enchanting fusion of mario games, pixel games, Retro Games, and animal games. This innovative addition to the ever-evolving sphere of Games for Kids immerses players in an extraordinary world teeming with adventure and intrigue.
The game's protagonist, Super Peaman, triumphs over adversaries with its unique power to launch peanuts. This delightful twist on conventional arcade gameplay elevates this riveting escapade into a league of its own. By intertwining elements reminiscent of classic mario games with an original narrative style, Super Peaman World extends a spellbinding experience that holds gamers captivated from start to finish.
In Super Peaman World, players traverse through 32 enthralling levels across three distinct worlds, each presenting a fresh wave of challenges and rewards. Whether you prefer collecting gleaming gold or engaging in daring combat against formidable enemies, this game offers something for every kid or kid-at-heart.
The pixel art design is visibly inspired by traditional Retro Games- imparting a nostalgic appeal while maintaining its modern flair. Among the myriad of animal games available today, Super Peaman World distinguishes itself by focusing on strategic ingenuity rather than sheer brute force.
Overall, Super Peaman World is not just a game; it's an enthralling journey filled with enchantment, valor and countless peanuts! Whether you're an ardent fan of mario games or merely seeking a captivating new gaming experience for your kids- step into the captivating terrains of Super Peaman World and reignite your love for retro-inspired gaming!
What are the best online games?