Super MX - The Champion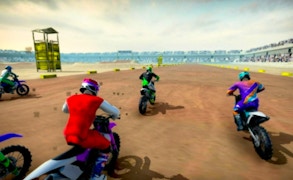 Super MX - The Champion
Into the thrilling world of dirt-bike-games, enters a new challenger - Super MX - The Champion. Drawing you into the rugged terrain of exciting motorcycle-games, it promises a high-octane experience that revs up your adrenaline.
Super MX – The Champion isn't just another title in the crowded genre of driving-games. It stands out with its distinctive features which include two game mode options: free ride and racing. These options allow you to explore the stunning landscapes at your own pace or test your skills against fierce competition.
As a dirt bike simulator game, Super MX - The Champion offers an unbelievable level of realism. The bike handling is meticulously crafted, making drifting a joy rather than a chore. For those who love to drift, it's paradise. It's not just about speed and reflexes but also about mastering the fine art of balance and control that are essential in drifting-games.
The free ride option allows you to roam and experiment with stunts on diverse terrains while racing mode propels you straight into heated competitions against formidable AI opponents. Whether you're performing breathtaking stunts or overtaking rivals in breakneck races, this game will leave you gripping your controller tighter with every passing second.
The king of simulator-games, Super MX - The Champion marries aesthetic appeal with technical prowess, delivering an exhilarating gaming experience that's hard to match in today's market. Every rev of the engine, every bump on the track feels incredibly realistic, making this game a must-play for any motorbike racing enthusiast.
In conclusion, Super MX - The Champion delivers on all fronts: graphics, gameplay, and replay value. With its perfect blend of simulation and adrenaline-fueled racing, this game truly deserves its place on the podium.
What are the best online games?