Super Heroes Ball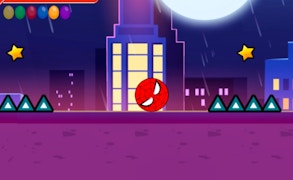 Super Heroes Ball
Step into the vibrant, pulse-pounding world of Super Heroes Ball, an exhilarating new offering from the innovative minds at taptapking.com. This revolutionary arcade game artfully merges elements of Skill Games, anime games, and ball games, creating a unique gaming experience that will captivate enthusiasts across these genres.
Roam through a vividly rendered, anime-inspired universe, boasting top-of-the-line graphics that thrust you into the game's dynamic environment. The game elegantly fuses the best elements of skill games and ball games to propel you on an adrenaline-fueled adventure alongside some of your favorite superheroes.
In Super Heroes Ball, you're handed the daunting responsibility of securing infinity gems from the menacing clasp of Thanos. Your ally in this heroic quest? None other than Spiderman, whose youthful energy and agility equip him as a formidable challenger against Thanos' tyranny. Every level poses a new challenge designed to test your strategic thinking, reflexes and perseverance, compelling you to hone your skills with each gameplay.
The game sets itself apart with its immersive storyline and visually arresting design heavily influenced by anime aesthetics. From its meticulously designed characters to its intricate settings capturing the dark allure and high-stakes atmosphere of superhero realms - every element of Super Heroes Ball is crafted to perfection.
In essence, Super Heroes Ball isn't just a game - it's an adventure that awaits you; it's a challenge daring you to triumph; it's an unparalleled blend of skill games, anime games and ball games open for endless hours of free gaming. Whether you're a fan of adrenaline-charged arcade action or the whimsical world of anime or both - buckle up for an unforgettable ride with Super Heroes Ball.
What are the best online games?