Super Heels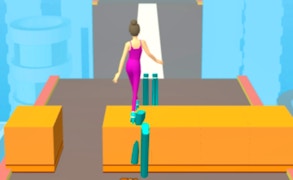 Super Heels
Seeking to escape into the exhilarating world of Hyper Casual Games and Skill Games? Then get ready to strut your gaming prowess in the most exciting release of the year - Super Heels!. This innovative arcade game is a captivating fusion of addictive level design, incredible 3D art style, and seemingly odd yet delightful high heel parkour.
Super Heels is undeniably a game changer in the realm of Arcade Games, having successfully turned an ordinarily female associated object - high heels – into an epic stage for parkour. Every stage cleverly tests your timing and platforming skills, offering a thrilling gaming experience.
The gameplay is more than just an aesthetically-pleasing journey; it's a pursuit of mastery that demands a high level of gaming finesse. Each stage involves strategically collecting heels throughout the course to build the tallest tower, with every misjudged step leading to losing some of your preciously collected heels. The tension mounts with each level, drawing gamers deeper into this one-of-a-kind experience.
The captivating 3D art style contributes significantly towards making this game irresistibly engaging. It provides a pleasing depth and dimensionness to the high heels, enhancing the overall hyper-casual gaming experience. With its meticulously designed levels, each more challenging than the last, Super Heels makes for an enthralling marathon for gamers.
In conclusion, for lovers of Hyper Casual Games and Skill Games, there's plenty to enjoy in Super Heels. Its unique take on platforming combined with its enigmatic 3D art style creates an addictive blend that'll keep you hooked for hours on end. So tie up those virtual laces and step into the riveting world of high heel parkour!
What are the best online games?