Super Footpool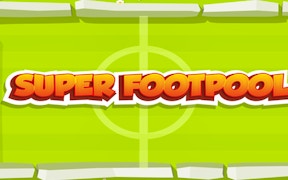 Super Footpool
Description
Experience the thrill of soccer in a unique way with Super Footpool. This innovative game blends the precision and strategy of billiards with the fast-paced excitement of football. Players are tasked with shooting the ball into the goal, mastering both direction and power. However, speed is crucial as your AI opponent won't wait around. With practice and skill, you could even claim the prestigious World Cup!
How to play
Super Footpool requires both speed and precision. You aim by setting the angle of your shot, then decide on the power to kick the ball towards the goal. Be fast, as your AI opponent is always ready to score! The game progresses as you score goals, and achieving these high scores can lead you to win the coveted World Cup.
Tips and Tricks
In order to succeed in Super Footpool, players should focus on finding a balance between power and accuracy when aiming for goal. Quick decision-making is also crucial as hesitation can give your AI opponent an opportunity to score. Always be proactive and maintain a competitive edge.
Features
Pioneering blend of soccer and billiards gameplay mechanics.
Fierce competition against a challenging AI opponent.
The thrill of aiming for victory in the World Cup.
Skill-based progression system focused on scoring goals.
What are the best online games?
Tags