Super Football Kicking 2020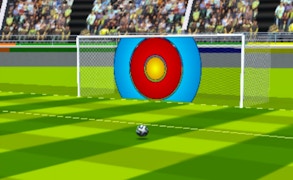 Super Football Kicking 2020
Welcome, sports enthusiasts and fervent gamers alike, to this dynamic exploration of Super Football Kicking 2020, a prime addition to the ball games, football games, and soccer games genres. This potently immersive game propels you straight into the heart of the adrenaline-pumping world of football, providing an interactive and engaging player experience that's unmatched.
The stand-out feature that sets Super Football Kicking 2020 apart is undoubtedly its intuitive mouse-driven control system. Dragging the ball with your mouse grants you complete control over your power shot's impact and direction. Witness the raw power as you launch your free kick towards goal, evoking the same thrills as striking a real-life football.
Whether it's experienced goalkeepers or solid defense lines, no obstacle stands a chance against your free kick! The moment you score a goal is undeniably gratifying, capturing the essence of triumph in competitive football. Through various stages that increase in complexity and intensity, Super Football Kicking 2020 offers endless hours of challenging fun.
Every game stage brings diverse experiences, adding to replayability and ensuring that every gaming session feels fresh and exciting. From atmospheric stadiums to one-on-one encounters with fearsome goalkeepers, Super Football Kicking 2020 masterfully creates a captivating atmosphere akin to prestigious football tournaments.
In conclusion, whether you're well-versed in soccer games or just getting started in this exhilarating genre of ball games, Super Football Kicking 2020 is an absolute must-try! Feel every kick, revel in each victory, and immerse yourself in a top-tier football game that will keep you on your toes!
What are the best online games?