Super Fist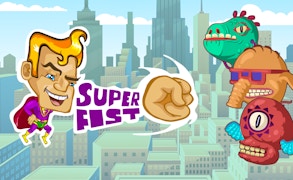 Super Fist
Description
In Super Fist, you play as a fearless superhero on a mission to protect the Earth from vicious, grotesque monsters. Your main weapon? A super-powerful hand! The game involves intense hand-to-hand combat, demanding your utmost skills and strategy to defeat the monstrous invaders. Fast-paced and thrilling, Super Fist combines the suspense of battle games with the spine-chilling theme of classic monster games.
How to play
Control your hero with your keyboard, moving around with the directional keys. Your super fist is triggered by space bar, and offers a powerful punch to knock down monsters. Progress in the game by defeating waves of monsters and earning points. As you progress, monsters become stronger but so do your skills. Remember: timing and precision are crucial!
Tips and Tricks
Avoid being cornered by groups of monsters. Keep moving and use your super fist strategically—wait for the perfect moment and then strike! Watch out for monster patterns as some may have unique attack styles. Stay determined and learn from every defeat to improve your skills.
Features
Action-packed Gameplay: Fast-paced combat throws you right into the thick of battle.
Monster Variety: Fight against different types of monstrous opponents.
Evolving Difficulty: Game gets harder as you progress, offering a greater challenge.
Skill-based Progression: Improve your gameplay skills to become an unstoppable force!
What are the best online games?