Super Cricket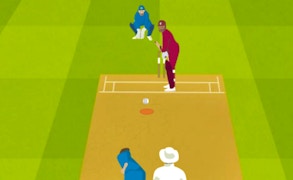 Super Cricket
Step onto the pitch with Super Cricket, an enthralling addition to the realm of cricket games. This spectacular mobile sports experience will have you hooked from the first ball, delivering an immersive and action-packed cricket adventure whenever and wherever.
Have you ever dreamed of representing your nation in the World Cup? Super Cricket allows you to do just that. The game's intriguing World Cup tournament feature lets you test your skills against the best cricketing nations. With each game, the stakes get higher, making every hit and run crucial in your quest for global dominance.
In addition to the thrilling world cup campaign, Super Cricket also offers a one on one play mode as well as a quick match feature. Whether you're looking for a fast-paced cricket clash or a strategic showdown, this game has got you covered. These modes are perfect for playing on-the-go, ensuring there's never a dull moment with this captivating ball game.
Fans of realism will appreciate the comprehensive range of cricket shots available in Super Cricket. From classic front-foot drives to daring switch hits, these authentic shot selections add an extra layer of strategy, making each play feel like a real-life cricket match.
The graphics in Super Cricket are simply beautiful. Each element is designed with attention to detail - from players' movements to stadium atmospheres - bringing the whole experience to life.
In conclusion, whether you're a seasoned cricket veteran or someone new to the sport, Super Cricket offers an unforgettable blend of fun, excitement and challenge that is sure to resonate with all lovers of sports games.
What are the best online games?
Tags