Super Car Racing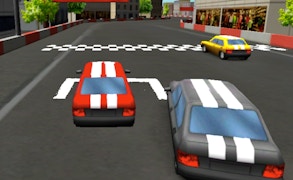 Super Car Racing
Are you an adrenaline junkie with a need for speed and a penchant for car games? Well, ride shotgun with me as we hit the throttle in the thrilling new racing game, Super Car Racing. This is not your everyday driving game; it's more - a true revolution in the realm of fun games and a surefire tickler of your competitive nerve.
In Super Car Racing, you're not just put behind the wheel - you're given control over your destiny. The game drops you right into the heart of city streets where every turn gives way to a fresh challenge. The cityscape isn't just a pretty backdrop; it's the pulse-raising arena where speedsters clash in a quest for glory. You have to juggle between control and chaos, as navigating through jam-packed streets redefines what driving games have offered so far.
Fancy drifting? This wonder of drifting games presents drifting as an art form. The intuitive use of Arrow Keys brings both precision and fluidity to your drifts, creating seemingly impossible curves that not only look mesmerizing but also shave off those crucial seconds during races. Each drift feels rewarding and pushes you to better than the last one.
The ultimate task? To win the race! But it's not just about crossing the finish line first; it's about embracing the challenge, mastering the art of drifting and racing like there's no tomorrow using only your daring skills and Arrow Keys!
A regular win is gratifying, but outmaneuvering your opponents by blitzing through crowds and narrowly avoiding crashes? That's euphoria! So buckle up, start your engines and immerse yourself in Super Car Racing – because once you've hit these streets, there's no going back.
What are the best online games?