Super Buddy Run 2: Crazy City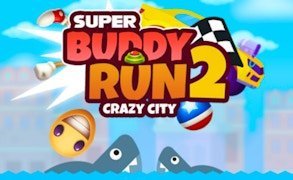 Super Buddy Run 2: Crazy City
Take a deep breath and strap yourselves in as we delve into the turbo-charged universe of Super Buddy Run 2: Crazy City. It's a nitrous-filled fusion of car games, driving games, and running games. This isn't just a sprint to the finish line; it's a high-octane adventure that'll put your driving skills and reflexes to the ultimate test.
The gameplay is blazingly fast, filled with daredevil stunts, thrilling jumps, and tricky obstacles. With more than 100 adrenaline-pumping levels, this game will keep your heart racing and your fingers twitching over the controls. You're not just behind the wheel, you're also controlling the life of your fearless buddy.
In the bustling streets of Crazy City, you'll navigate sharp turns, loop-the-loops, platforms and menacing obstacles. Imagine barreling down a straightaway at breakneck speed only to spot an upcoming loop – it's blood-pumping stuff that makes Super Buddy Run 2 one of the most exciting driving games.
This isn't just about fast cars and speed boosts though; strategy plays a crucial role too. Arrange your arsenal of tricks to earn maximum scores as you leap across gaping chasms and dash past impending obstructions. And did we mention about collecting gold coins? Use them to upgrade your car and keep up with the escalating pace of this perilous journey.
To sum up, Super Buddy Run 2: Crazy City brings together all elements we love in running games - high-speed racing, death-defying stunts and an endless thrill-ride through a city designed to challenge every ounce of your gaming skills. If you have an itch for speed-filled adventures then add this one to your collection pronto!
What are the best online games?