Sumo Party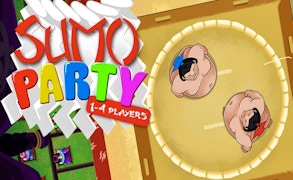 Sumo Party
If you've been yearning for a taste of the world of sumo wrestling without the requisite weight gain, Sumo Party is the game for you. A standout amongst the ever-popular 2 player games category, Sumo Party brings a unique blend of skill games and fun games into an appealing multiplayer package.
As soon as you step into the digital dohyō, Sumo Party's vividly designed arena, you are immediately immersed in a battle of grandeur, testing not only your strength but your wits too. The game's charm lies in its simplicity - who can push their opponent out of the ring first? This is where it earns its place as one of today's top skill games.
However, don't mistake its simplistic premise for a lack of depth. There's an engaging strategic element as timing, positioning and understanding your opponent's tactics becomes crucial to securing a win - making this a standout in the 2 player games domain.
The multiplayer experience is further enhanced by hilarious visuals and sounds synonymous with traditional sumo bouts. This adds to the overall fun factor, guaranteeing countless hours of entertainment and hearty laughs. It is, without doubt, one of those fun games that every gamer needs in their collection.
In conclusion, Sumo Party brilliantly encapsulates the essence of sumo wrestling while offering an addictive and strategy-laden gameplay experience. Its aesthetic appeal combined with its simple but deep mechanics firmly cement its position as one of our favourite offerings in both 2 player and skill games categories. So get your mawashi ready, it's time for a Sumo Party!
What are the best online games?