Sudoku Village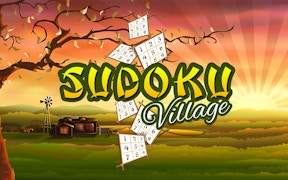 Sudoku Village
If you're a fan of number games, then Sudoku Village is definitely a match for your logical prowess. This mind-bending game involves a 9x9 grid, making it one of the most intriguing math games on the market.
In Sudoku Village, some squares are pre-filled, while others are left to your mathematical intuition. The challenge lies in filling the empty squares with numbers ranging from 1-9 in such a way that each row, each column, and each of the nine 3x3 blocks contain all the digits from one to nine, without repetition. It's a dash of complexity that makes this game standout among other number games.
The beauty of Sudoku Village lies in its simplicity; it's a game that can be played by individuals across all age groups making it an excellent choice for family games. It doesn't really require any deep mathematic skills but rather demands proficiency in logic and pattern recognition. Weaving through the grids while applying these skills makes it an engaging brain teaser - an apt fit for those seeking challenging brain games.
The immersive design and interface gives Sudoku Village a fresh look compared to traditional Sudoku making it more visually appealing to players. The game becomes progressively harder, effectively pushing you to enhance your number-crunching abilities and making it addictive in its own right.
In conclusion, Sudoku Village offers an exceptional blend of joy and difficulty that makes it highly addictive. Whether you're looking to sharpen your sudoku skills or want engaging family games that test logic rather than luck, Sudoku Village is exactly what you need!
What are the best online games?