Subway Princess Run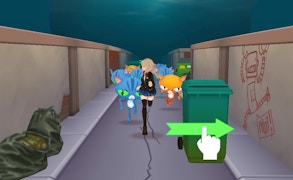 Subway Princess Run
It's time to step into the thrilling world of Subway Princess Run, an action-packed escapade that blends elements of our favorite running games with a feline twist. This is not just another run-of-the-mill running game—it's one of the best cat games on the market that will leave animal games enthusiasts purring for more.
Subway Princess Run combines adrenaline-fueled running adventures with enchanting princess rescuing missions, all set in an atmospheric subway city. Beneath this charming princess tale, you'll find a game that tests your reflexes and challenges your speed like never before.
Unlike traditional running games, this one isn't just about sprinting. You're tasked with avoiding obstacles and maneuvering around various on-screen props to outsmart and outrun the ever-persistent cats prowling behind you. The perfectly paced gameplay balances tension and excitement to keep players constantly engaged.
While many cat games may lose their novelty after a few rounds, Subway Princess Run maintains its appeal thanks to its well-designed levels and captivating storyline. The game keeps injecting fresh challenges into its labyrinthine subway city, which means new thrills await around every corner.
Subway Princess Run positions itself as an irresistible treat for fans of temple run or subway surfers style of gaming, while also appealing to gamers who have a soft spot for cute girls and princess-saving narratives.
In conclusion, if you're craving a new action game that skillfully incorporates elements from various genres; then Subway Princess Run, with its distinctive blend of running games mechanics and intriguing cat games elements, is definitely worth checking out.
What are the best online games?