Stretch Guy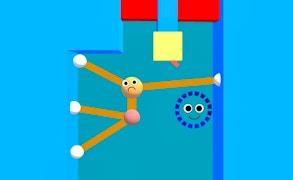 Stretch Guy
As a passionate fan of Hyper Casual Games and certified connoisseur of fun games, I was excited to delve into the wildly imaginative universe of the arcade game, Stretch Guy. Here's my take on this incredibly engaging offering within the gaming sphere.
Stretch Guy is a vibrant embodiment of arcade gaming where simplicity meets challenge, leaving you delightfully entertained yet thoroughly engaged. In this captivating world, you control Matchmaker, who faces an uphill journey home. However, the charming twist lies in his mode of transportation - he must stretch out his limbs to move towards his safe haven!
The rules are uncomplicated yet intriguing - Matchmaker's limbs can only find support on the wall. Your task? Help him maneuver his limbs for movement. But here's where it gets thrilling! You can't push his extensions too hard, lest he over-stretch!
Stretch Guy offers a gripping gameplay experience that seamlessly combines the charm of old-school Arcade fun with modern-day gaming finesse. Every playthrough is spectacularly unpredictable yet consistently exciting - two key attributes that make it deserving of its title as one of today's most addictive fun games.
If you're after fast-paced excitement and adore the nimble simplicity characteristic to Hyper Casual Games, then Stretch Guy's quirky gameplay mechanics, amusing characters, and distinctive challenges make it an unmissable journey worth every stretched-out step.
In summary, Stretch Guy's ingenious blend of easy-to-learn controls and progressively challenging levels make it an absolute delight for gamers across all spectrums - whether you're taking quick breaks or embarking on lengthy gaming sessions.
I guarantee - once you venture into Matchmaker's world, stretching has never felt so thrilling before!
What are the best online games?