Street Shooter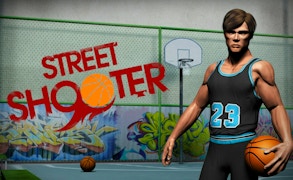 Street Shooter
Feast your eyes on the exhilarating world of Street Shooter, a game that promises an adrenaline rush for any basketball enthusiast. If you've been looking for addictive ball games, this game ranks among the best basketball games you can find.
The beauty of Street Shooter lies in its pristine 3D graphics, a feature that truly brings the gritty urban environment to life. As a player, you are instantly transported into a world filled with vibrant graffiti artwork that echoes with street credibility. This potent combination is sure to resonate with millennials and any gamer who appreciates raw and creative aesthetics.
Where Street Shooter truly shines is in its boundless gameplay. The straightforward controls include an effortless swipe or flick to shoot motion, making it highly accessible even to novice players. Yet the simplicity doesn't sacrifice depth, it merely masks it behind a veil of accessibility.
In the span of 60 seconds, your mission is to score as many jump shots as you can from five different positions. The variety in shot positions adds an extra challenge and keeps you on your toes from start to finish. It's a thrilling test of dexterity and precision, making every second count.
A unique feature of Street Shooter is its accuracy statistics after each game round. This feature lets you keep track of your progress so you can continuously push your skills to the limit and improve your high score.
In conclusion, Street Shooter brilliantly combines rapid-fire action with artistic flair, delivering one of the most engaging basketball games out there. Whether you're a seasoned gamer or new to ball games, Street Shooter will hook you from the moment you make your first jump shot.
What are the best online games?