Street Shadow Classic Fighter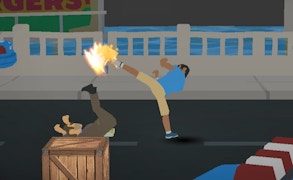 Street Shadow Classic Fighter
Unleash your inner warrior with the adrenaline-pumping game, Street Shadow Classic Fighter. Part of the enthralling battle games genre, it's a blend of tactical precision and brutal force. This game doesn't just require fast reflexes, it demands strategic thinking. Whether you're a fan of police games or gangster games, you'll find something to love in this immersive and invigorating fighting experience.
The game is an explosive fusion of boxing and street fighting that's set to become your newest addiction. As with the best boxing games, each punch carries weight; every kick sends a shudder through your controller. You can almost feel the sweat and grit as you brawl your way through multitudes of enemies.
Street Shadow Classic Fighter boasts an array of intricately designed missions, featuring challenging objectives that will keep you coming back for more. It's not just about landing punches and kicks — these missions require strategy, timing, and precision. Your every move must be calculated as you navigate the perilous corners and dark alleys of this thrilling beat-'em-up game.
Where it truly shines though is in its captivating gameplay. It's like being transported into a classic mobster film where you're the tough-as-nails protagonist who doesn't know when to quit. The fights are intense, raw and satisfyingly savage - just what any fan of gangster games and battle games craves.
In conclusion, Street Shadow Classic Fighter, with its gripping narrative combined with a seamlessly woven fight mechanism is a must-play for anyone yearning for a fist-clenching gaming experience rooted in the world of gangs, punches and street domination.
What are the best online games?