Street Hoops 3D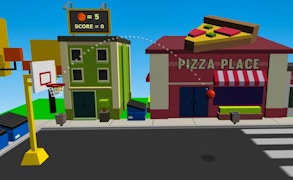 Street Hoops 3D
Step off the conventional court and into the vast world of ball games with an exhilarating spin on basketball games, 'Street Hoops 3D'. Offering immersive gameplay in a three-dimensional environment, this sports gaming experience will have you hooked from your first throw!
Boasting a visually impressive presentation, Street Hoops 3D successfully brings the rough-and-tumble world of street basketball to your screens. Whether you're an amateur casual gamer or a seasoned pro player, there's something for everyone here in this high-stakes world of urban, pick-up basketball.
One of the true delights lies in Street Hoops 3D's unique mechanism. Its twist on scoring is tailored to challenge your skills and judgement. You have a limited number of balls and your task is to rack up as many points as possible. Not just a test for accuracy, it also pushes your strategic instincts to their limits!
With richly detailed graphics, each dunk and dribble feels incredibly lifelike, immersing you deeply into the hustle-bustle of underlit courts and chain-net hoops that are inherent to street basketball. Fancy footwork and rad shots come alive in this virtual playground!
To wrap up, Street Hoops 3D perfectly meshes the worlds of ball games and basketball games, offering players a thrilling gaming encounter that is both fun and challenging. The game compellingly captures the essence of street basketball, making it an absolute must-try for sports game enthusiasts.
So grab your virtual sneakers, flex those gaming muscles, and dive headfirst into the captivating world of Street Hoops 3D – it's time to hit nothing but net in this ultimate basketball challenge!
What are the best online games?