Street Fight Match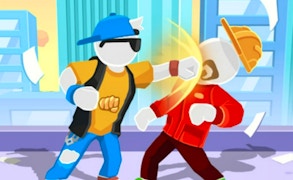 Street Fight Match
Get ready to throw down in the epic hybrid of match 3 games, battle games, and monster games all wrapped in one, Street Fight Match. This title reimagines the traditional match 3 mechanics with a twist of adrenaline-pumping battle sequences. You'll be itching for your next move as you navigate through its enthralling gameplay.
Street Fight Match is not your typical casual puzzle game. Imagine a classic match 3 format, but with every successful move, you're helping Ultraman knock his opponent out cold. Yes, you heard it right! The game brilliantly intertwines strands of monster-battling joy within its core puzzle framework.
In this game, eliminating balls of the same color is more than just scoring points; it's literally bringing the fight to your enemies' doorstep. Each successful combination lands Ultraman's fists on his opponents in this unique blend of battle games and puzzles. So, unleash your strategic prowess not just to clear levels but to send opponents flying!
But what if you're stuck between a rock and a hard place? That's where special props come in handy! This feature adds another layer of excitement to Street Fight Match where using these power-ups can swing the battle tide in your favor when needed.
And did I mention how delightful this game is? Bursting balls are interspread with Ultraman's dazzling punches and kicks that takes the overall experience up several notches. So if you're someone who enjoys the strategy of match 3 games mixed with the exhilarating tension of monster battles, then get yourself ready for some knockout fun with Street Fight Match.
To wrap it up, Street Fight Match effectively combines elements from different genres making it an exciting break from conventional puzzle games. It masterfully marries mind-bending puzzles and thrilling battles into a single action-packed adventure that will keep you coming back for more!
What are the best online games?